It's 3 am
December 15, 2016
It's 3 am, way too early to be sending an email but I am wide awake, still moving through jet lag.
We're here in Shanghai (Tanya, my friend/assistant and I) for several weeks, making this huge "sitter holding small one" in plaster to be cast in bronze, just beginning on this one. With the help of the team here at Purple Roof Atelier (where I've been making large scale pieces for the past 7 years) we shape and cut this form until it's close to being right, then cover and shape it with plaster.
At the workshop here they scan the original ceramic form (I'm holding it in my arms) and create this form in foam. There are many adjustments and changes to make when it is scaled up, hundreds of lbs of plaster and lots of elbow grease! They make a mold of the finished form and cast in bronze. I return to work on the bronze and open up the eyes and mouth.
It's been cold, no heat in the workshop so we are all bundled up in layers (but still can move!)
I am so happy to be making this piece! It is a special commission from a high school friend and long time patron of my work, in preparation for the dual city exhibition of many of my large scale figures on Broadway, NY and Nanjing Road, Shanghai this coming summer.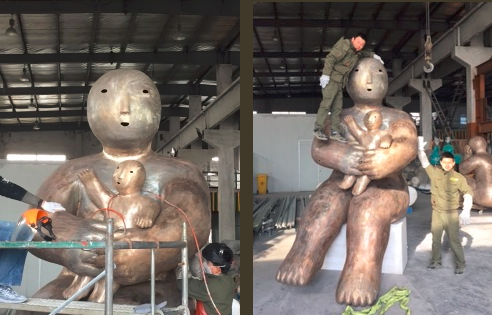 My work this trip is to repair the original plaster forms (they are cut up for casting).