A lovely mistake
To back up a little, I was here in April this year with Tanya Kukucka who is my dear friend and wonderful assistant. We built another big reclining lady in plaster. This big lady turned out larger than I had planned (I made a mistake in figuring the size!) which ended up being a great thing. She's lovely.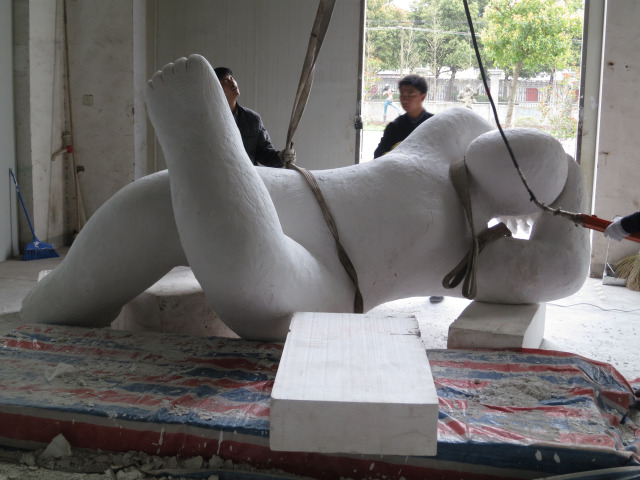 Tanya's photos
When we were here in April after lunch many of the workers would come outside the kitchen and hang out in the warm sun on my big bronze reclining figure that was stored there under the eaves. There couldn't be a bigger compliment! It made me realize how important it is to the piece for it to be placed where people can touch and sit on it.
Tanya took these great photos, sneaking around unbeknowst to the folks there.
This is Tanya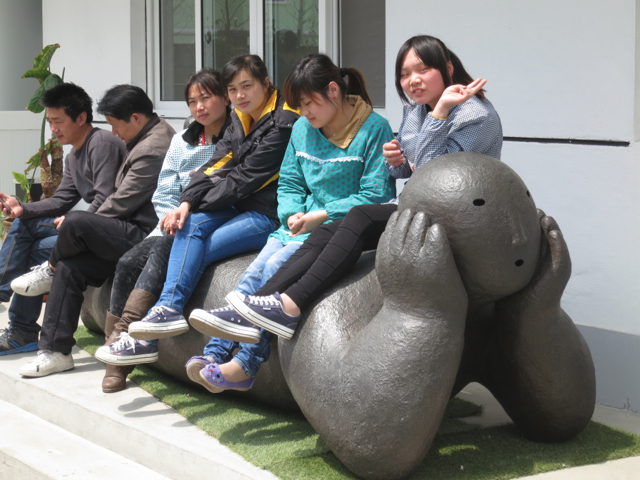 Three more big ladies
August 26, 2013
I'm back in Shanghai again to finish three big ladies in bronze, two of which are the first in the editions. After the first day of feeling discombobulated, I'm enjoying the swing of things here. It's that first day with jet lag and trying to tune in to what I have going here that's always the hardest. And the heat! A week or so ago was the hottest weather in Shanghai in 150 years, 107 in the workshop everyday. Happy to miss that heat wave but it was 100 degrees today! Everyone seems pretty comfortable with it except me. It's great to see my buddies again.
The rest are photos out my bedroom window. The workshop moved last year to Fengxian area, south west part of Shanghai, predominately agricultural area with many small industies (like this one) cropping up. A large and light filled workshop and living place. Very good working and living conditions here.