Each form has its challenges
July 4, 2010
About a week ago I was given an opportunity in this visit to make another large piece, a kneeling figure, the original of which I had brought to China with me. Though I was really looking forward to going home (home sweet home!) I decided to go for it and stay another week to work on it. So here we go again: the styrofoam form, the nails that stick one inch out to mark the thickness of the plaster, building out the plaster, now shaping it. I learned a lot with the first sitting figure and thought it would be easier this time around. It's not. Each form has its challenges, each day is different (who can help me, how strong I feel!) and it has become sweltering hot!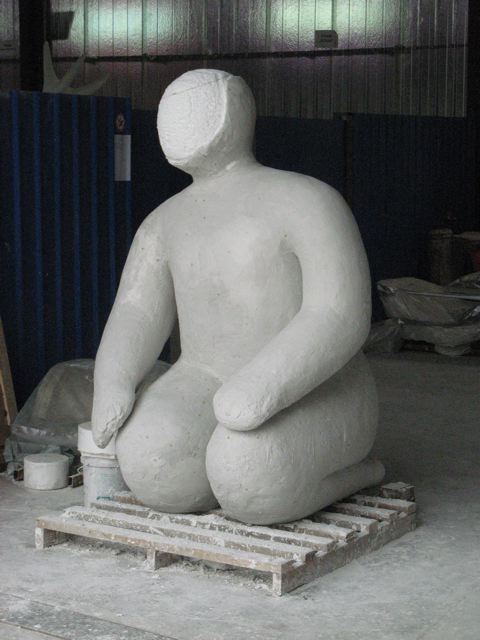 That lady who is squatting there lives upstairs of this industrial building in which we are working. She and her husband keep an eye on the place. She is always watching, sees everything, everyone coming and going and she is the one who opens (remotely) this huge screeching industrial roll up door when we need to get in or out after hours. One night as she was letting me out (the last to leave) she balled me out (in Chinese) for leaving the lights on. I explained (in English) that I couldn't find all the light switches in order to turn them out. Believe it or not I think we understood each other.
Pouring bronze
July 6, 2010
They poured the bronze a couple days ago, into the sand mold of my first two sitting figures that I made in April. And that 3rd photo is the next day breaking it out of the mold. See just the torso and legs (arms are separate). That's Chalong, a Thai guy that I worked with 17 years ago in Thailand! the others are Thai guys who worked at the same foundry. They are really taking good care of me! I am coming down the home stretch to finish this kneeler. yippee!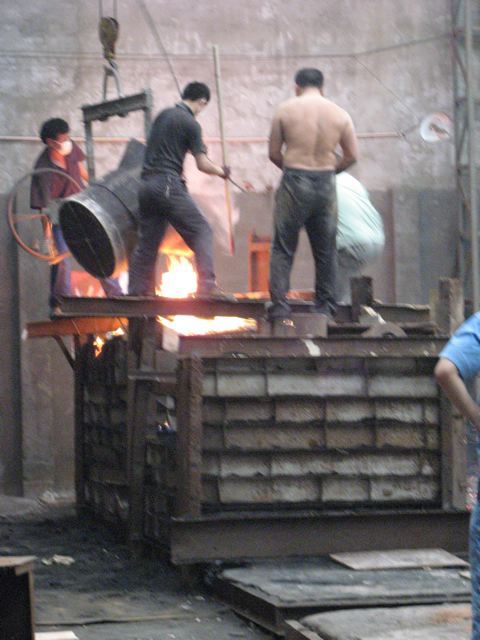 Kneeling figure taking shape
My big kneeling figure is coming together. All these parts are laying around in bronze after the hardened sand mold is beaten and ground off of them. Then the parts are welded together and chased (grinding and shaping at the joints, putting the texture back in) It is amazing to see how it takes shape again. I understand that only half of the work is done when it comes out of the mold. Still so much to do.